EN
EN
EN
EN
FR
ES
RU
IT
TR
UK
Wristlet
/ɹˈɪslət/
/ɹˈɪslət/
1
a bracelet or bangle that is designed to be worn around the wrist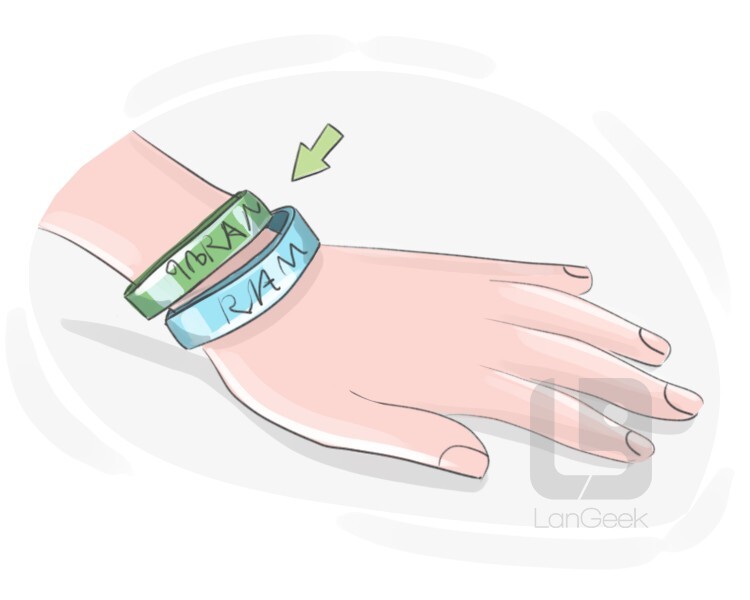 What is a "wristlet"?
A wristlet is a type of bracelet that is designed to fit tightly around the wrist. It typically features a decorative or ornamental element, such as a charm, a bead, or a gemstone, that hangs from the wristlet. Wristlets are often made from precious metals, such as gold or silver, and may be adorned with diamonds or other precious stones. They can be worn as a standalone piece or as part of a larger set of jewelry, such as a matching necklace or earrings. Wristlets are a popular accessory for formal events, such as weddings or galas, but can also be worn in more casual settings
2
a small handbag or pouch worn on the wrist with a strap or handle, used to carry essentials, often for convenience or as a fashion accessory
What is a "wristlet"?
A wristlet is a small, compact purse that has a strap or a handle for the wrist, making it easy to carry around. It is often designed to hold just the essentials, such as a phone, credit cards, and cash, and typically does not have a lot of extra room. Wristlets can be made from a variety of materials, including leather, canvas, and fabric, and come in a range of styles and colors to suit different tastes and occasions. They are often used as a convenient and fashionable accessory for a night out or when running errands.
Examples
1. 
Is
it
more
like
a
wristlet
?
2. 
These
stylish
wristlets
have
a
power
bank
built
in
to
charge
your
phone
on
the
go
.
3. 
You
can
attach
it
in
here
and
use
it
as
a
wallet
or
use
it
as
a
wristlet
.
4. 
Mahalo
wristlet
cases
and
yes
,
I
have
two
of
the
exact
same
one
.